Disclosure: I have not been paid to recommend the products in this article, but if you purchase through the links below, I receive small compensation for each purchase (which supports my work so I can make more videos ????).
It's natural. It smells great. It works better than anything I've tried in the past. What is it?
Have you ever noticed in nearly every one of my videos the white stuff in that little cube-shaped container? It's my go-to lube of choice: organic, virgin coconut oil. I receive many questions about what I use for lube, so this short post explains just that while discussing some of the pros and cons.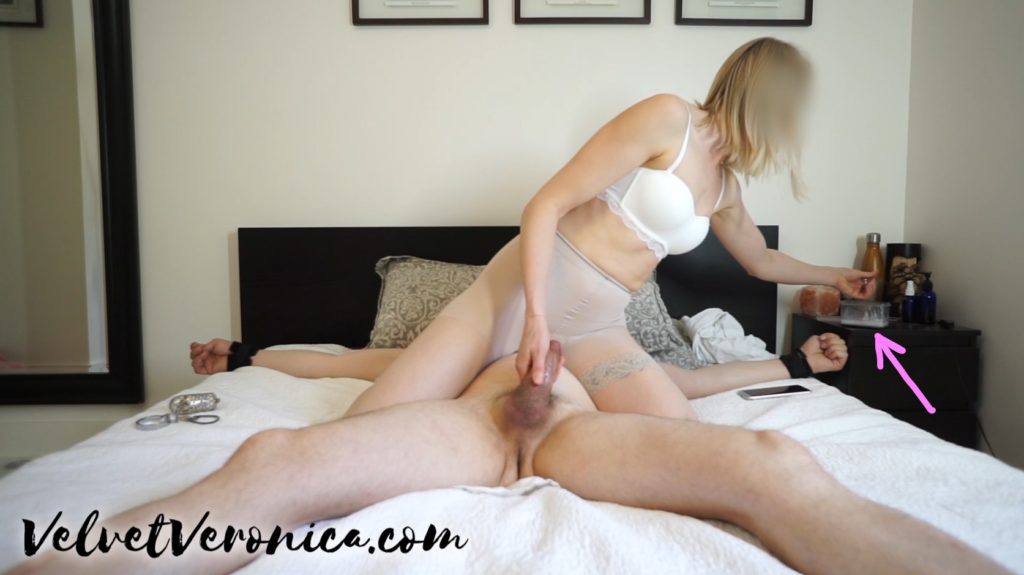 Since I'm a fan of using my hands during sex, I need a lubricant that will stand up to the long, unmerciful teasing sessions. A lube that I can also use to fuck with. A lube that gives me peace of mind, knowing that it is natural and free of preservatives without containing ingredients that aren't good for my body. Want to see the lube in action? See me use it to give my pet a one-finger orgasm, or the first time I played with his prostate.

I'm not even sure how I came across coconut oil for lube, but apparently, it's not all that unusual, (hippies have been using it for decades).

We'll start with the Cons…

First, some people have a sensitivity to coconut oil. Before jumping into trying this as lube, please test it on your skin for a day or two beforehand to make sure your body doesn't react negatively to it. I'd suggest you start small.
Second, and this will mainly apply to women, because coconut oil contains antimicrobial and anti-fungal properties, this can affect a woman's vaginal pH balance, especially if you are prone to problems like yeast infections or bacterial vaginosis. While I haven't had any issues with using it for sex, some women might respond poorly. Some things just won't work well for some people.
Third, because it is an oil it can compromise the effectiveness of latex condoms and some sex toys, meaning the oil can cause the latex to weaken and break down. With my pet, this isn't a worry for me. And from my own online research and personal experience, I haven't found it to be a problem with silicone toys, but you might find that it does.
Now for the Pros…

My experience with most lubes is that they dry up, get sticky, have undesirable ingredients that I wish to avoid causing vaginal unhappiness. I have a drawer full of lubes that promised the world and never delivered.
I was more than happy to discover how well coconut oil worked for me during playtime. I could use it on my pet's cock for endless teasing sessions (of course you will need to add a bit more here and there – the skin will absorb some, but far less is needed than with most other lube). Plus, I was able to have sex with it and it didn't create any vaginal imbalances for me. Most importantly, it's natural, which is always a win in my books.

"One word to describe the unrefined organic virgin coconut oil as lube – AMAZING!!!! I'm so glad that I reached out to you, and you were so gracious to reply to my question. Over the past decades in the BDSM lifestyle, I have heard of a variety of lubes but nothing about using this, so there are probably others also in the "dark." If you are still inclined to post a short review of the pros / cons of it, I would definitely concur. Any mention of it would be of great educational value to your followers not in the know. Thank you! Thank you!! Thank you!!!"

This message was from a fan who inquired about what lube I use, and was part of the inspiration for this article.
I also use it for cooking and baking, so I buy a large container and take out what I need using a smaller container for my bedroom fun (hence the square container in my videos). The brand I use is Kirkland Signature Organic Virgin Coconut Oil, which can be purchased on Amazon. A word of caution though, coconut oil is generally solid at room temperature, but if the room temperature rises above 24°C (75°F), the oil will liquefy and can leak, so I'd suggest you use a well-sealed container.
Overall, I'm very happy with using coconut oil as a lubricant, nothing has worked better for me yet, especially for my extended teasing sessions. Have an alternative that works wonders for you? Share it with me in the comments below!

Ciao!